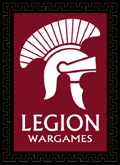 I founded Legion Wargames (LWG) in May of 2009. It is my goal, with the help of some talented game designers, and a few select affiliates, to bring you a fine selection of military board games which cover topics that are as of yet un-gamed, or new game systems that offer a unique perspective on history.

In addition to the games, a strong focus will be put on a high level of customer satisfaction and customer service, for I believe it is the customers, not me, that will allow Legion Wargames to succeed. I hope that you enjoy the games that will be produced and find all aspects of your association with Legion Wargames to be positive.
The Games produced by LWG will be professional quality boxed games with full size maps & die-cut EasyPunch™ counters. Because the topics of our games are somewhat less well known, the print runs will be quite small, 750 - 1,000 copies each, depending on the game. But that does not mean that the amount of work that goes into the design, artwork, and production is any less than the mainstream games produced by the larger companies. And as our reputation for producing quality games grows so will our print runs.

As the sole proprietor of LWG, I handle all aspects of running the business in addition to helping develop the games, creating much of the graphics for the counters, maps, and box covers, coordinating production and shipping.

My interest in wargames started many years ago when I was 17, playing Avalon Hill's Tobruk, and War & Peace, and I have been at it ever since.

Randy Lein - Owner
If you have any issues, comments, or concerns, please email me at:

contact@legionwargames.com
Game Designers:

Andy Loakes-
Designer of Toulon, 1793. Many of you know Andy through Limey Yank Games, the premier website to get Cyberboard, Vassal, and Zun Tzu gameboxes for all of your favorite games. This is his first crack at designing a game and he is making a big splash choosing Napoleon's first great victory as the subject.
Didier Rouy-
Designer of Quatre Batailles en Espange, and the seven previous games of the regimental Napoleonic series Vive l'Empereur, as well as the campaign game system "The Flight of the Eagle" and a tactical game system "The Eagle Fights". President of Pratzen Editions, former director of the publication Journal du Stratege and the first President of the Cercle de Strategie, a club gathering wargamers from all over France, Didier is one of the most prolific French designers with 25 years experience in the field. QBE is his twelfth published game.

Geoff Noble -
Designer of Redvers Reverse is currently on hiatus. His game is still on the CPO list but for the time being it's in a holding pattern while I find someone to take up the reins.

John Gorkowski -
Designer of The Great Game. With many a design focusing on WWI under his belt John is moving to Central Asia covering the 50 year Anglo-Russian struggle for supremacy in the region. The period map just adds to this great topic.

John Heim -
Designer of Corregidor. This is John's first design and his research on this subject is exhaustive. With Mike Taylor as his mentor John is sure to have a winner on his hands.

John Poniske -
Designer of Fire on the Mountain and Maori Wars: New Zealand 1845 - 1872. John is no stranger to game design and has had 4 games published by 3 different companies.
Joseph Miranda & Javier Romero -
Designer team for Waters of Oblivion, if you've been in this hobby for any length of time you well know who Joseph Miranda is, and Javier is his collaborative partner who seems to have his hand in all sorts of projects.

Kim Kanger -
Designer of Ici, c'est la France, Tonkin, and Dien Bien Phu. Ici, c'est la France was nominated for a CSR award in 2009. Tonkin was originally published in Vae Victis magazine and was nominated for a CSR award in 2006.

Marja Erwin -
Designer of Tatchanka. Marja loves Russian history and she is putting that passion into this game covering the Russian Civil War.

Mark Woloshen -
Designer of Praire Aflame (released by KPG), The Last Invasion, and Battle of the Northwest Rebellion. All of these games deal with Canadian history and guess what, Mark is from Canada.

Michael Taylor -
Designer of Saipan/Tinian, Adobe Walls, and The Russo-Japanese War. Mike won back to back CSR awards in 2006 and 2007 for his games Battle of the Little Bighorn and Rosebud, and we suspect those won't be his last.

Steve Dixon & Shawn Rife -
Design team for B-29 Superfortress and Hell Over Korea. These guys did a spectacular job on this widely popular solitaire game, B-29 Superfortress, and the add-on module. They have now turned their attention to a completley redesigned version of B-17 Queen of the Skies, tentatively titled "Bombs Away!". This one is going to be huge.

Steve Dixon -
Even though Steve is busy with the above projects he still found time to design another solitaire game, Picket Duty, covering US destroyers facing Kamikaze attacks in 1945. This one is sporting some specatcular artwork and it appears we have another winner on our hands. This has spawned an idea for a solitarie game covering PT boats in the Pacific during WWII. Stay tuned for more great games from Steve.

Steve Pole -
Designer of Blenheim, Volume I in the SHS series. Once the first game in this series is released Steve has a plethora of other volumes waiting for production.

Vance von Borries -
Designer of Slouch Hats & Eggshells. Vance is widely know and respected for the vast number of high quality games he has designed, to include the East Front Series, currently on Vol VI, produced by GMT.